Webshop

Webshop Sierk Schröder Foundation
DVD Sierk Schröder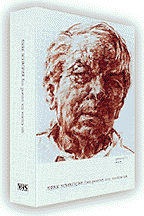 DVD
'Sierk Schröder Een portret ten voeten uit'
In this documentary from 1996 Sierk Schröder looks back on his long artistic career. Quite a number of his art works is pictured.
Duration: 52 minutes
Production: Drs. Paul Beek, Amsterdam
The DVD costs:
Euro 16.00, including postage (applies to NL)
Euro 18,00, including postage (applies to Europe and countries outside Europe)
Please order by phone (0031 172 215214) or by email: stichting@sierkschroeder.com
Almost immediately after ordering the DVD will be sent together with the applicable invoice.